Welcome to the website of AMS CAE Services GmbH.
We are a CAE services provider of the Stuttgart area and we are pleased to show you an insight into our extensive business activities.
Our principal services are for the automotive and aerospace industries. A special focus is on the analyses of parts made of fibre-reinforced composites.
Do you have a shortage in the simulations of your components? Do you require special "Know How" in the development of new components? We develop solutions according to your requirements. Naturally, we are available for consulting.
Your AMS CAE Services Team.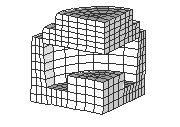 A little view of the stresses from a simulation of pressing rubber into a hull with hyper-elastic material definition, slipping, and realistic contact definition.